Blanket Approach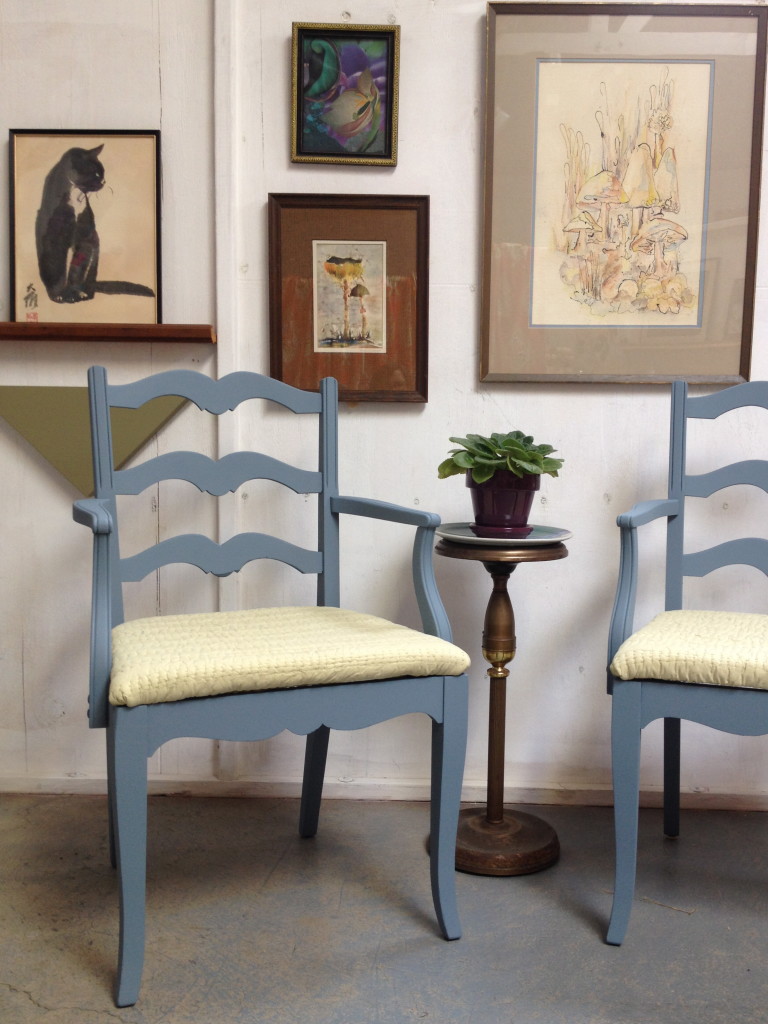 The name of the game is "trash to treasure." I'm on a mission to rescue disregarded and discarded art as well as other home furnishings. My favorite pieces right now are a sweet Chinese brush painting of a black cat, and a 70's watercolor of pastel mushrooms. Somehow they work well hanging on the same wall. I still haven't decided if I want to keep the original frames, or update them a little. Hmmmm…
Somethings look better in their warn yet original state. I'm not talking about me, I'm talking about the old brass plated ashtray which I simply covered with a plate and used as a plant stand. Those chairs though, are another story. They weren't anything special and most of the construction is laminate and "cheepish" wood.
Since the chairs weren't significant, I gave myself the challenge of not spending any money on repurposing them. So, I pulled out some leftover chalk paint, some milk paint, and some latex paint. I mixed them all together and added water to thin it out. The result was a beautiful blue-grey with a slight eggshell feel (not too chalky). The upholstery is actually a bedspread which I rescued from the dumpster at a sorting facility. Its hard to see, but the quilting stitch is the same blue-grey as the chair.
The chairs are more special now. Thanks to friends, Charlie and Alana for thinking of me, and giving me first dibs before the chairs went to the curb. I hope you aren't offended I called them insignificant.
I think I'll start collecting quilts and blankets as upholstery now. Its a good approach.
6 responses to "Blanket Approach"