Mirror Images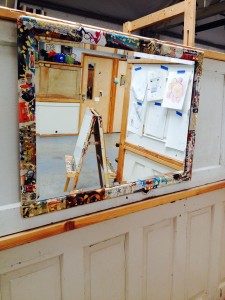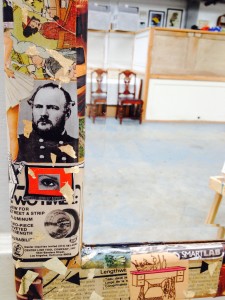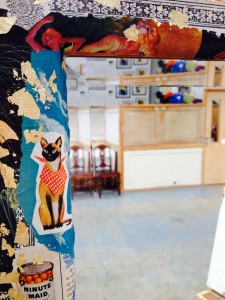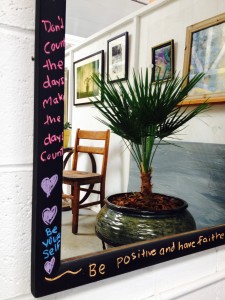 Last week, I had the privilege of hosting March's open studios event at Redux. That's just one of the reasons I'm behind on posting, but the fun was definitely worth the work. For the event, I collaborated with Redux studio artists and guests to create these one-of-a-kind mirrors. I don't know why, but there seems to be an abundance of mirrors out there, and some of them need a little somethin'- somethin'.
I had two such mirrors, but didn't have the time or energy to give them what they needed. I called on fellow artist, Vivian Young, to help with a collaborative  project for one of the mirrors.
Vivian suggested decoupage, and helped me gather old magazines, paintbrushes, and gel medium. We had all the supplies laid out for a couple weeks, and allowed all the studio artists to decoupage at their leisure. When the mirror frame was filled with images, Vivian made final touches with gold leaf. It's pretty awesome how everyone's style and artistic flare came together in one piece.
For the other mirror, I wanted to create something on which the studio guests could collaborate. It had to be something that didn't require drying time, supervision, or much direction, so I simply spray painted the frame with chalkboard paint, and asked the guests to use chalk and write encouraging messages.
There's something about mirrors that's very affirming (or confirming). Not only is your image reflected, but your feelings are as well. Good things happen when your face is framed in positive messages.
"Don't count the days, make the days count." – anonymous mirror message.
2 responses to "Mirror Images"