Cover-Up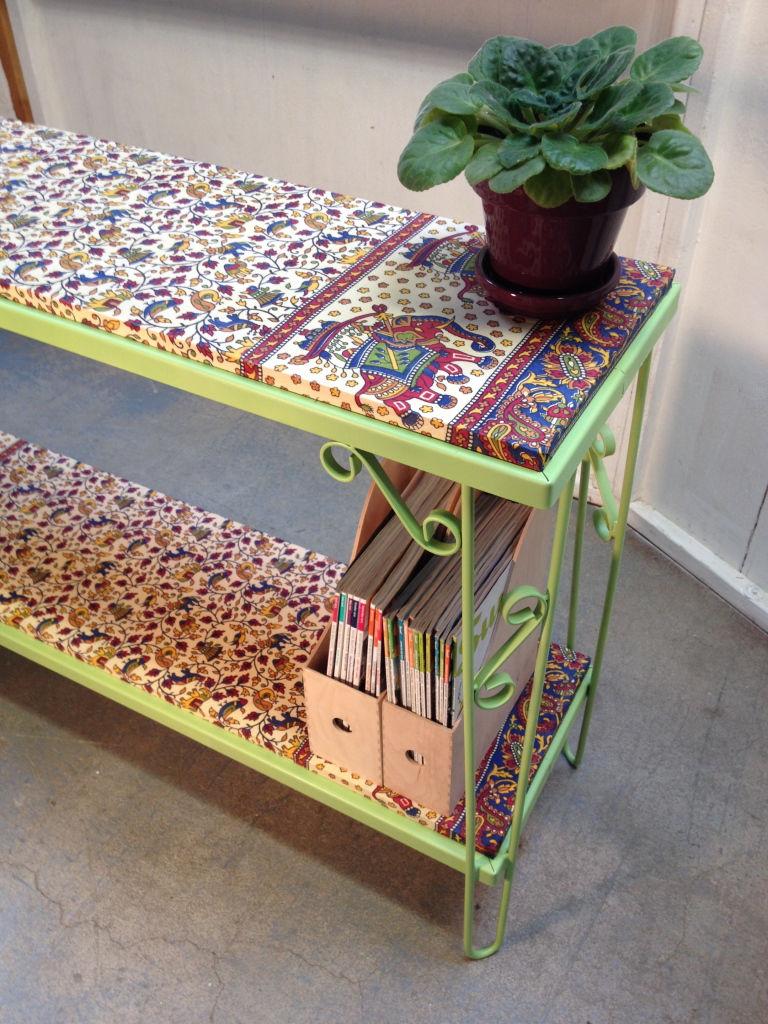 T
here's so much ugly particleboard in the world. I feel it's my duty to cover it with beautiful fabric whenever I can. Actually, I prefer to decoupage the fabric to make it more durable and easy to wipe clean.
First thing to do is cover the wood surface with a gel medium (available at art supply stores), apply the fabric, then cover the fabric with more gel medium. Just like old Elmer's Glue, it will look milky until it dries. Don't worry about getting medium all over your hands, but be careful with clothes, it doesn't come out after it dries. The quality and sheen of your medium will determine its durability and wipe-ability.
My latest fabric cover-up project was beautifying shelves for the "repurposely" plant stand I had sitting around for months (it was just waiting for everything to come together). I was hoping to come across some awesome pieces of reclaimed wood, but when I came across two ugly particleboard shelves that fit the plant stand perfectly, I knew I had to change directions. A look through my fabrics and leftover spray paint, and I came up with this crazy twist for the 70's era metal plant stand.
If you need proof of durability, check out the portable kitchen island I clad in decoupaged fabric panels. Twelve years later, it looks just the same. If you're still worried about durability, you can decoupage fabric, then paint over it with latex paint as I did with these once disintegrating bookshelves.
Its a tough job making ugly particleboard beautiful, but someone's gotta do it; 'glad its me!