Short 'n' Sweet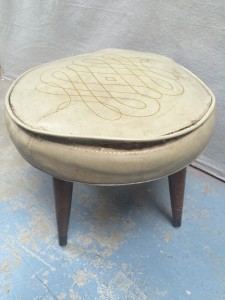 How do you get back into blogging after taking a few months off? Keep it short and sweet!
It's a no-brainer…See mid-century foot-stool being thrown out. Rescue foot-stool. Take to local upholsterer. Fix up stool's legs. Done and saved!
That's the clinical version. Here's the romantic version…
One day(s), my neighbor was trying to get her house ready to sell. She had her garage almost completely cleaned out except for a couple things she intended for the dumpster. Lucky for me, she invited me in to see. There in the corner, all ratty and dirty was the cutest stool I ever saw (slight exaggeration but still really cute).
My neighbor didn't see it, but I immediately envisioned the stool upholstered in a piece of remnant leather I had been hoarding for a couple years. I took the stool and leather to my man, Raul, and in a short while, I had an awesome stool with a new cushion and upholstery.
The newness of the leather made the legs show their age and neglect. So, I gave them some attention with steel wool and dark walnut stain. Gone are the paint splatter, grunge, nicks and scratches.
Now, I'd say this stool is short and sweet.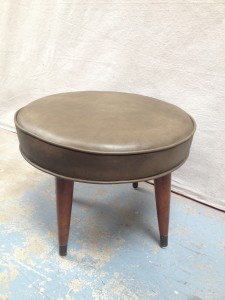 3 responses to "Short 'n' Sweet"