Artist in Residence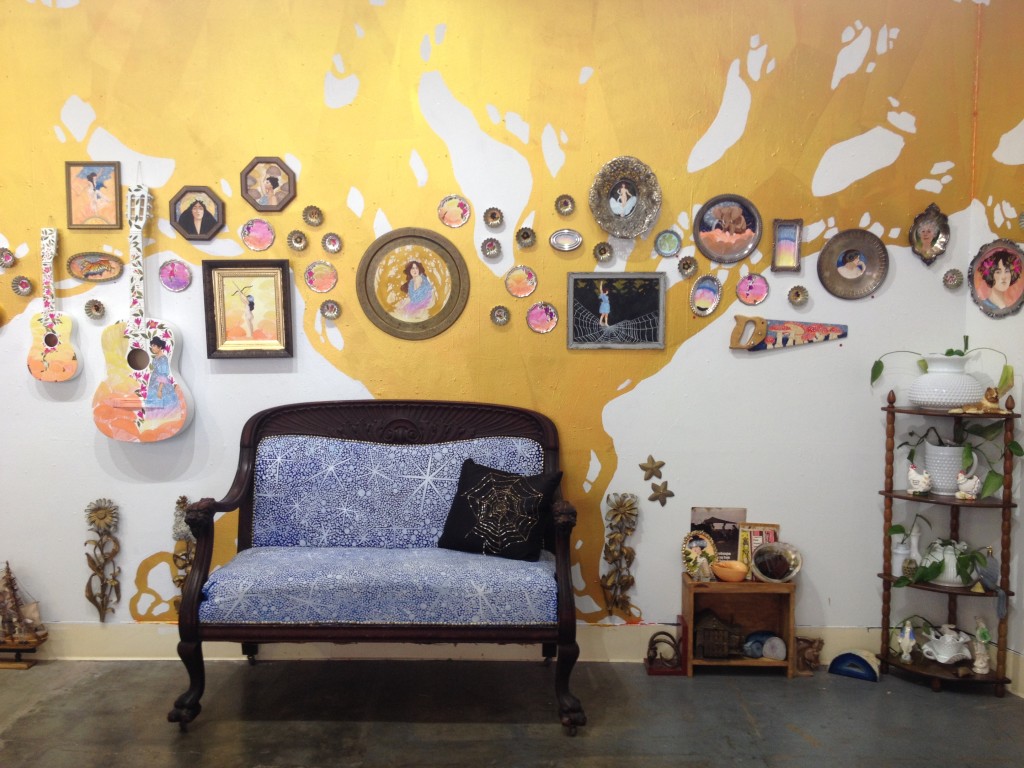 Last Friday night, I got to feast my eyes on the magical, mystical works of Shannon Taylor, St. Vincent de Paul's current artist in residence for Alameda county.  Shannon spent the last few months treasure hunting and creating art in a warehouse of donations (what a dream!). Her subject matter and use of repurposed materials truly inspired me.
For her "canvases," Shannon used unexpected materials such as tin jello molds, silver and brass trays, guitars, and even a saw blade. Using highly pigmented water colors, Shannon brought these old treasures new life, and created vibrant, hypnotic (in a good way) images that fuel the imagination. The anchor of the show is her star scape, reupholstered lion's head settee, placed under the image of a warm gold, sheltering tree.
Shannon Taylor's show, "The Stars Come Down," will be featured at Redux Studios and Gallery through the first week of October. You can follow her on Instagram at magicmakerdreamweaver, and check out more of her work on her website here.
"I often focus on themes of nature, beauty, magic, night, and the human figure. In my paintings, I decoratively gild subjects and emotions that would otherwise be conceived as brutal. To take the fear from the monsters and shadows, and turn them to beauty is my highest aim. Alligators marauding as rotten logs, vultures circling with flamingos, the cloak of night worn as a summer dress, all things which could haunt us can be turned to beauty." -Shannon Taylor
One response to "Artist in Residence"