About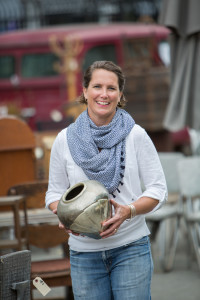 Me
I find inspiration in salvage yards, dumpsters, dirty warehouses, and old garages. I'm a big fan of the creative process, and enjoy a unique experience each time I repurpose a rescued treasure. Most of my tinkering is done in my studio at Redux (a social enterprise of St. Vincent de Paul) in Alameda, CA.  I am fortunate to have been brought up in an innovative and artistic environment, and am thankful for a husband who supports me and my craft.
My Philosophy
Design impacts the environment. When we continually design "off the shelf," we deplete our resources, fill our landfills, and loose creativity. If we strive to make products that function for 100 years or more, we become craftsmen as well as stewards of the earth. Reusing is always better than just using.
This Website
I hope this site inspires people to use less and create more. I'm not an English major, and don't have an editor, so please excuse the bad grammar and typos. I take all the photos with my iPhone 4, and rely on my expertise from one photo class many, many years ago in college. I give a ton of credit to web designer, Kristine Precour, for helping turn my vision into code. And to graphic designers, Lynn Larocca (of Alameda, CA) and Jenifer Thomas (my sister of Traverse City, Mi), for giving me design advise for my logo, and turning my Word documents into something useful.