Creating Fun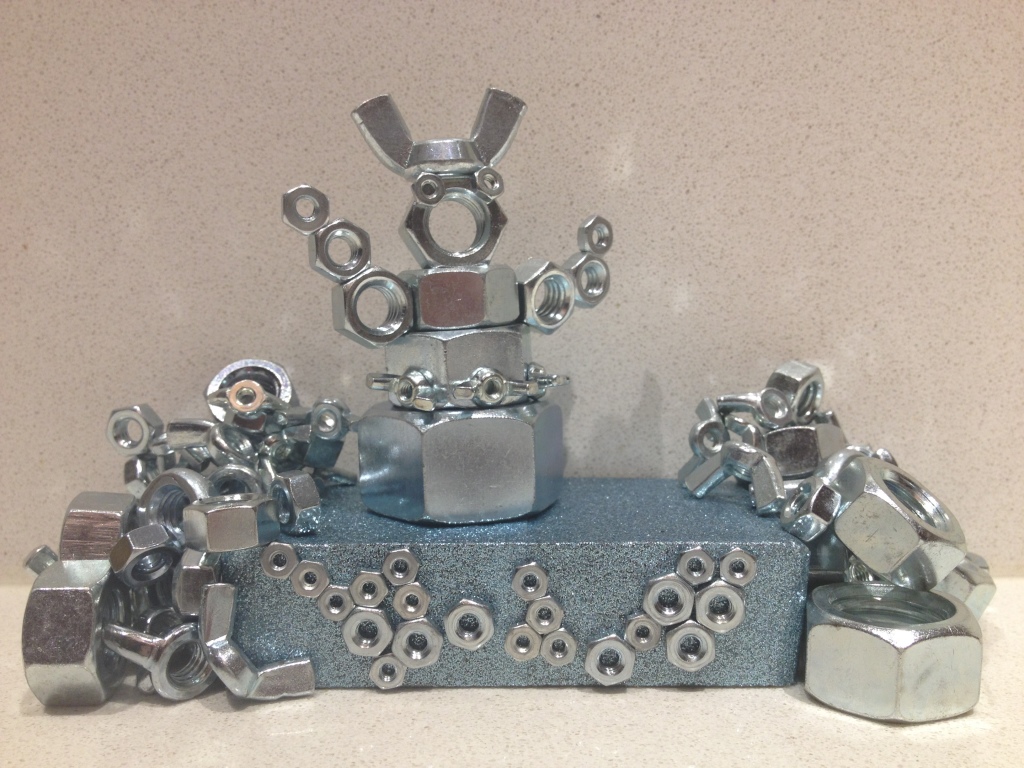 My daughters and I had a blast creating this magnet toy for my (older) brother, Chad. He had requested a "repurposely" gift for Christmas, so we knew we were in for something fun. As I searched for inspiration, I had to think like Chad…think humor, art, science, joy, and youthfulness. He's a pretty cool guy.
I found a very large magnet in my studio and heard it saying Chad's name. (Not really, I'm just being dramatic. But, I did think he would find it intriguing.) The next several days, I racked my brain for ideas for this magnet. It wasn't until I spotted a roll of GLITTER(!) duct tape that I had my "ah ha!" moment. I grabbed the tape, and took off to the local hardware store.
Being a neighborhood store, the owner rang me up, and expectedly asked, "What are you doing with all these nuts and wing nuts?!" "Its hard to explain, so I'll just say it's for an art project," I replied. "Good answer," he said.
I ran home, got my girls gathered, and showed them what I was going to do. Once we had the magnet wrapped in pretty glitter tape, things literally fell together. I mean when my younger daughter brought out the nuts, they went flying across the table and smacked onto the magnet. We spent the next hour creating little sculptures before putting the magnet and nuts in a box destined for Michigan. Don't tell Chad what we made for him!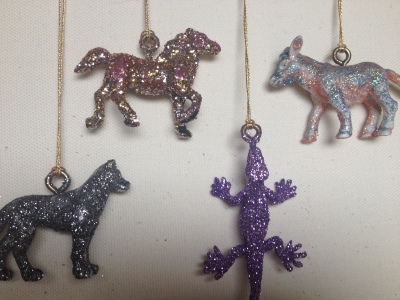 Here's one more story about creating fun: A couple weeks ago, I went out to dinner with my family. Afterwards, I talked them into stopping at my studio so I could pick up something I had left there. For some reason, we all tumbled in.
Earlier that day, I had been working on cards and ornaments, so covering my work table was glitter, ribbon, string, curtain rings, glue… It was crafting heaven, and my daughters begged to stay and make ornaments.
We spent the next two hours digging through all my supplies and creating one of a kind ornaments. We had so much fun, we lost all track of time and other responsibilities (homework). But it was worth it, and my husband, Bill, gets the prize for the most creative ornaments: Glitter-covered plastic animals.
3 responses to "Creating Fun"